The Longest Ride
Review: Matt Mungle

It is possible that Nicholas Sparks and Tyler Perry are in a competition to see who can regurgitate the same plot line into box office success most often. Sparks is out of the chute this time with a modern day romance called THE LONGEST RIDE. With this one he borrows elements that made The Notebook so endearing and tries to recapture that feeling of a time when life and love seemed a bit more pure and a lot less hurried.

The present day love story revolves around a young bull rider, Luke (Scott Eastwood), trying to rise to the top after a horrible rodeo accident. He strikes up a relationship with Sophia (Britt Robertson), a college student trying to start a career in the art business, and in Sparks' fashion, they soon fall madly in love. When they come to the aid of an older gentleman named Ira (Alan Alda) Sophia takes an interest in his story of Ruth; the woman Ira forever loved.

Where this movie shines the brightest is in the 1940's flashbacks that tell the story of the young Ira and Ruth. Like in The Notebook Sparks ability to write romance and love during that period is excellent. Yes the relationship between Luke and Sophia is romantic and Luke is endearing in his southern boy charm. And even though Eastwood and Robertson have a casual, believable chemistry that is attractive; you will still long for the "remembrance" sequences to visit the young Ira (Jack Huston) and Ruth (Oona Chaplin).

Chaplin is fantastic in her portrayal of Ruth. There is no question why Ira was so endeared with her and audiences soon follow suit. She is quirky, tenacious and out spoken. But she coats it wonderfully in this sweet, soft demeanor that is never abrasive or cold. She has a zeal and love for life that permeates the screen. Their saga is certainly the saving grace of this film. But does it save enough?

Sparks writes better novels than what transfers to the screen. He should take that as a compliment unless his desire is to be a screenwriter. Readers of this book will see a few plot changes and timeline issues but the meat of the story and the overall climax is still the same. That said the dialogue between Luke and Sophia is at times very trite, formulaic and cotton candy predictable. No fault to the actors. They read the lines with gusto and do not allow that to diminish their onscreen presence. Just be ready for some eye rolls.

THE LONGEST RIDE is rated PG-13 for some sexuality, partial nudity, and some war and sports action. The content pushes the limit a bit more than normal for Nick's flicks. There are a few steamy moments that contain nudity, which is seldom a part of Sparks' normal operations. But these are rare and over fast. Though not Sparks' best it is at least better than the last few. The rodeo elements are a nice addition and Eastwood seems very much at home in those moments. I give it 2.5 out of 5 seconds. If the movie had been entirely about the young Ira and Ruth it would have scored higher points.

2015 Mungleshow Productions. All rights reserved.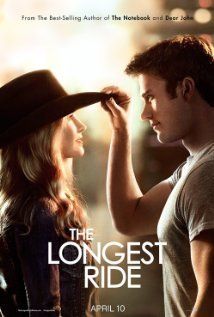 128 min | Drama, Romance